Albóndigas Soup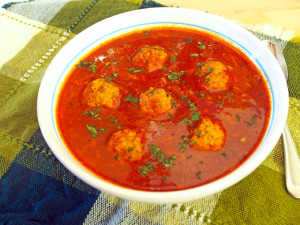 Soup:
1 T vegetable oil
½ large onion, chopped
3 cloves garlic, minced
½ t dried Mexican oregano
¼ t ground cumin
6 c unsalted beef stock
2 c crushed tomatoes
1 chipotle minced along with 1-2 t adobo sauce
10 oz can red enchilada sauce
2 carrots, grated
1 t kosher salt
½ c zucchini, grated
¼ c uncooked rice
Albóndigas:
¾ lb ground beef or combination of beef and pork or chorizo
¼ c zucchini, grated
1 egg, lightly beaten
1 clove garlic, minced
1 small corn tortilla, processed to crumbs
1 T fresh cilantro minced
½ t kosher salt
¼ t ground cumin
¼ t dried Mexican oregano
Garnish:
Chopped cilantro
Heat the vegetable oil in a large pot over medium heat. Sauté onion, garlic, oregano, and cumin until onions are soft and slightly golden, about 5 minutes.
Add beef stock, tomatoes, chipotle and adobo, enchilada sauce, carrots, and salt.
Bring to a boil and reduce to simmer for 20 minutes.
Make the meatballs. Combine all meatball ingredients in a bowl and mix well. Portion into one tablespoon or ¾ inch meatballs.
Bring 2-3 inches of water to a boil in a medium saucepan. Cook the meatballs for 3-4 minutes.
Using a slotted spoon transfer the meatballs to the soup. Stir in the zucchini and rice.
Simmer for 30 minutes.
Garnish with chopped fresh cilantro.