Roasted Pumpkin Seeds – 6 Ways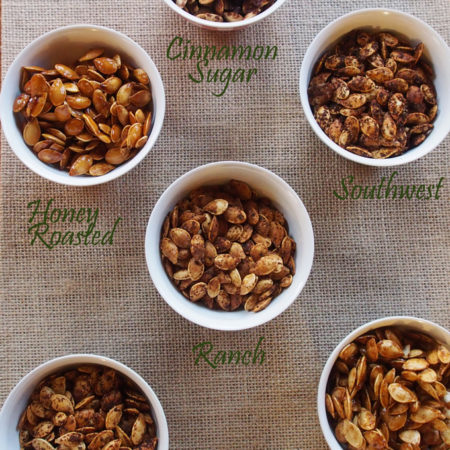 ½ c pumpkin seeds
1 t oil
Cinnamon Sugar:
1 T brown sugar
½ t cinnamon sugar
Pinch kosher salt
Sweet & Spicy:
1 T brown sugar
½ t kosher salt
⅛ t cayenne
⅛ t ground pepper
Honey:
1 t honey
Sprinkle salt (when baked)
Southwest:
¼ t kosher salt
¼ t pepper
¼ t Mexican oregano
⅛ t cayenne
⅛ t chipotle powder
1 t ancho chili powder
½ t onion powder
½ t garlic powder
¼ t cumin
Barbecue:
1 t Penzey's BBQ 3000
Ranch:
½ t kosher salt
¼ t onion powder
¼ t parsley
¼ t garlic powder
¼ t dill weed
⅛ t paprika
⅛ t pepper
Remove pumpkin seeds from pumpkin and remove as much of the pumpkin 'guts' as possible.
Fill a large bowl with warm water and add seeds. Gently slosh around and let sit for 5 minutes.
Gently remove from water and dry on paper towels.
Preheat oven to 300 degrees and line a baking sheet with parchment paper.
Place a half cup of pumpkin seeds on the baking sheet. Toss with a teaspoon of oil. Toss with the seasoning mix of your choice.
Bake for 20-30 minutes until lightly golden.
Cool and store in an airtight container.
Recipe by
Gravel & Dine
at http://gravelanddine.com/roasted-pumpkin-seeds-6-ways/