Brown Butter and Honey Pistachio Bars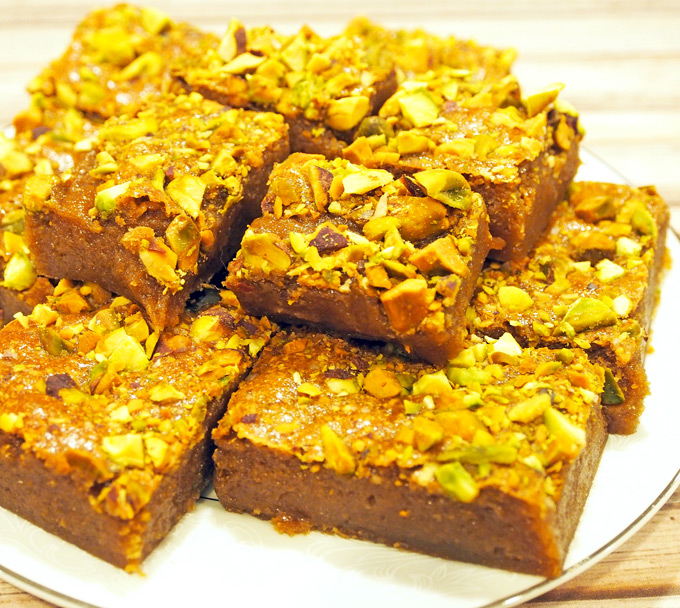 Recipe type:
Cookies & Bars
2 ½ sticks unsalted butter
2 c packed dark brown sugar
7 T honey
2 eggs
2 egg yolks
2 t salt
2 c flour
½ c shelled salted pistachios, roughly chopped
Preheat oven to 325 degrees. Line a 9x13 baking pan with a parchment sling and spray with cooking spray.
In a medium saucepan, melt the butter over medium-low heat until the butter melts completely and then browns. Watch it carefully when it starts to brown and don't let it burn.
Add the butter to a large bowl and whisk in brown sugar and honey until smooth. Allow to cool for about 5 minutes. Whisk in the egg and egg yolks.
Stir in the flour and salt and be careful not to overmix.
Pour batter into pan and sprinkle with chopped pistachios.
Bake for 22-25 minutes until edges are set and the center is still soft and jiggles just a little.
Remove pan from oven and cool on counter on a wire rack for about 10 minutes. Use the parchment sling to transfer the partially cooled bars to a wire rack to cool completely.
Cut into small squares once cool.
Recipe by
Gravel & Dine
at http://gravelanddine.com/brown-butter-and-honey-pistachio-bars/